MEETINGS
2016 - WE REMEMBER SACCO AND VANZETTI!
Tuesday, August 23, 2016 – 7PM
Encuentro5 – 9A Hamilton Pl., Boston, MA (Near Park St. T)

Featured Speaker: Robert Knox, author of "Suosso's Lane" (2015)
Music by Jeffrey Panettieri and Jake and the Infernal Machine

A free event sponsored by the Sacco and Vanzetti Commemoration Society

To download the flyer in pdf click here.
To download the flyer in jpeg click here.


-------------------------


The featured speaker:
Robert Knox, "In a time of troubles when ordinary citizens worry about their safety, societies have a tendency to turn on members of "outsider" groups and suspect they're the cause of criminal acts. In the 2016 presidential election campaign, we've already seen a leading candidate make sweeping attacks on national and religious minorities. Should all Mexicans or Muslims be presumed to be the enemies of America's public safety? Can you imagine a time when people of Italian descent were looked at that way?

The events recounted in "Suosso's Lane," while they took place a long time ago, raise questions that are still with us. Do we learn from the past? Can we? Just maybe it helps to remember what happened long ago in 1920's America." (https://plus.google.com/113240472297765845478)




The performers: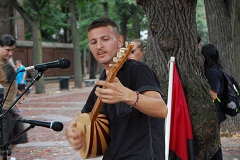 Jeffrey Panettieri, is a musician and activist from New Haven, CT where he has organized around issues of labor, immigration and police brutality with groups like Unidad Latina en Acción and People Against Police Brutality.

As a musician, he plays musica popolare- folk from Sicily and Southern Italy on instruments like the Neapolitan Mandolin, Lira Calabrese, Tamburello, Colascione and Marranzano. The songs, in dialect, tell the stories of workers, peasants, migrants and those struggling for a better world-- with some tarantelle (folk dance) thrown in as well.



Jake and the Infernal Machine Boston-based punk and folk band performing since the Summer of 2005.

Lineup Currently: Jake Carman – vox, guitar, Clara Hendricks – vox, guitar, John Cleary – Mandolin, violin, vox, James Lee – vox, bass, Max Kennedy- balalaika, trumpet, vox, Tim Carman – Drums, Jeff – Sax, clarinet, harmonica, keyboard, vox.


More info: https://jakeandtheinfernalmachine.wordpress.com/