click here.





---
No Sacco and Vanzetti March on August 23, 2016 -- but we will hold an indoor event instead
06/14/2016 [NEWS] - Our human resources have dwindled to such point that we decided not to organize the march and rally we have been doing for the last ten years. A balance of that situation indicate that this effort didn't really generate results, beyond the political and personal satisfaction of those in attendance, which never went beyond 50 people.

We don't want to abandon the attempt to keep our martyrs out of the mind and hearts of people. We have decided therefore to organize an indoor event on Tuesday, August 23rd, at Encuentro 5 in Boston. To this effect we have secured the participation of Robert Knox, a Massachusetts write who published the e-book "Suosso's Lane" by the end of last year. We will also have some live music, a rotating slide show with pictures of the times and the men. Soon we will come out with a poster and we hope that you continue to support this timeless cause for justice and make plans to attend the event and bring friends to it.

We will also attempt to secure a Boston City Council resolution declaring this day "Sacco and Vanzetti Day in Boston", as we have done it for the last ten years.

We should also rethink and revisit our hitherto failed objective of erecting a monument in Boston to Sacco and Vanzetti. From clearly identifying failure, we should be able to move towards victory.

Still in the struggle, regardless of the setbacks.

---
Flowers in the Dark
08/27/2015 [DOCUMENTS] - by Susan Tejada, author of In Search of Sacco and Vanzetti.

"Officials from San Quentin in California to Rikers Island in New York have turned dusty patches into powerful metaphors for rebirth," the Washington Post reports in a recent story on horticultural therapy. Inmate-garderners find purpose and a measure of inner peace, learning to grow something in dirt that will feed others or simply flourish in beauty.

Nicola Sacco and Bartolomeo Vanzetti, prisoners themselves nearly a century ago in Massachusetts, would have known this instinctively.

---
SUNDAY, AUGUST 23, 2015: 10TH ANNUAL SACCO AND VANZETTI COMMEMORATION DAY IN BOSTON
Remember the life and death of Nicola Sacco and Bartolomeo Vanzetti!

Sunday, August 23, 2015.

March and Rally

2PM - Gather at the Boston Common Visitor Center
3PM - March to the North End
4PM - Rally at the Paul Revere Mall

Music and speakers.

This year we will have the presence of the Boston Salvadoran Peace Band, a 45-people ensemble, that with their performance will address the immigration persecution aspect of this case. As the date gets near we will inform about speakers and other musicians who will participate.

Co-sponsored by the Black Rose, Sacco and Vanzetti Commemoration Society, IWW, Encuentro5.

To download a 2-up flyer click here.

---
Boston Banda de Paz (Peace Band) El Salvador will march on Sacco Vanzetti Commemoration Day 2015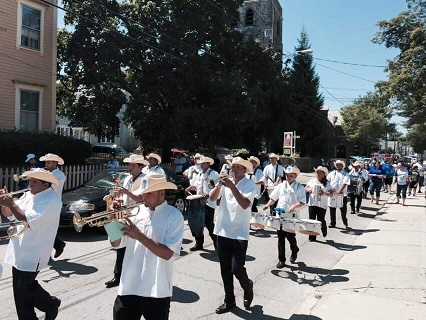 The Boston Banda de Paz El Salvador, based mostly in East Boston, has agreed to march with us on this year's Sacco and Vanzetti Commemoration Day. All 40 plus members of the band are immigrants, the majority from El Salvador, who relate clearly to what it means to be an immigrant worker here in the U.S. Sacco and Vanzetti were discriminated as Italian immigrants in their time. Many of the witness statements during their trial were simply not considered truthful because the witnesses were Italian. It will be a pleasure to have the company of these musicians and dancers on the day that we honor the memory of Sacco and Vanzetti. An article by Lowell Sun of last year gives us more information on the band itself. Click on "read more" to read it.


---
Sacco and Vanzetti Remembered in Boston, Sunday, August 23, 2015
08/14/2015 [NEWS] - Sunday, August 23rd, in Boston, the 88th anniversary of the execution of Nicola Sacco and Bartolomeo Vanzetti will be remembered. Sacco and Vanzetti were Italian immigrants and committed anarchists whose trial is regarded as one of the great miscarriages of justice in American history. Calling attention to the continued repression of immigrants and radicals, the Sacco and Vanzetti Commemoration Committee invites all to attend and participate in the ninth annual march and rally.

To read the full press release, please click below.


---
Joseph Silovsky: "Send for the Million Men"


Your theater of artifacts, depicting the lives of Sacco and Vanzetti, premieres in December in New York. I have taken a peek to a few acts of the play and have a vague sense of how the play develops. We need your help in understanding your efforts better.

Why is it called "Send for the million men"

When Vanzetti found out that the Blue Ribbon Committee set up by the Governor had ruled against them, he lost his mind for a day- he called for hours from his jail cell to "Send for the Million Men." He sat down at one point and wrote a delirious letter to the Boston Defense Committee going over the details of how the million men should come to save him. I found this moment in their story to be an apex. Vanzetti was always so calm and collected, so intellectual and rigorous. The mental blow to him of that final rejection threw him over an edge. And for me that is an incredible symbol, a signifier of his torment. (...)

To view a video of an act of the play click here.
For more information about Joseph Silovsky click here.

---
Mary Melnick in Concert in Boston, November 1, 2014
Mary Melnick in Concert
Performing Her Recent Composition:
"Sacco and Vanzetti, the Italian Years"
Saturday, November 1, 2014 -- 5:30pm - 7:30pm
Community Church of Boston
565 Boylston Street, Boston, MA 02116
Lothrop Auditorium, Second Floor

Mary Melnick is a pianist and composer who currently lives in Burlington, Vermont. This year she released an 82 minute musical composition dedicated to the two Italian men executed by the Commonwealth of Massachusetts by electric chair in 1927. The piece is entitled "Sacco and Vanzetti, the Italian Years". She will perform this original composition live for the first time in Boston at the Community Church of Boston.

Download flyer for distribution here. Thanks!

---
2014: Sacco and Vanzetti March Through Streets of Boston Again 87 Years Later
The Sacco and Vanzetti Commemoration Society held its 9th Annual March and Rally in Commemoration of the two men wrongly executed in 1927. Their names were repeated over and over again throughout the march as the marchers chanted "Sacco and Vanzetti! Presente!" and "What do we want? Workers Rights!, When do we want it? Now!" the speeches included historical pieces by Bob D'Attilio, David Rothauser, and political speeches from representatives of the IWW and the CP-USA and Anarchist speakers. The music included performances by Boston's tenor Andrew Alexander, Sergio Reyes, Evan Greer, Rafael Medina, and Jake and the Infernal Machine band.

To read the 2014 Boston City Council resolution click here.

For a selection of pictures from the event click here.


---
A new music piece about Sacco and Vanzetti: The Italian Years by Mary Ellen Melnick
06/03/2014 [NEWS] - What I would hope the listeners would get out of this composition is the feeling of these men's convictions, their strength and absolute bravery. Their dedication to their beliefs and their humbleness and great wisdom and struggle for equality for the working man must ring in our ears forever, and I can only hope this music and the recurring themes will begin to haunt the listener so that they are inspired to read about these men and think more about how much their lives and deaths contributed to the common good. Composing is not about me at all. It is about the subject matter and emotion and the love of sound.

To listen to a clip of the piece click here.


---
District Attorney Katzmann: Interview by David Whelpley with Frederick Pope
Ocala, Florida. September 23, 2011. Edited by Jerry Kaplan.

This audio interview concerns the life and times of Frederick Gunn Katzmann; the District Attorney (and later appointed special assistant District Attorney) for Norfolk County during the Sacco and Vanzetti Case. Frederick Pope, the interviewee, is Katzmann's last surviving relative to remember Katzmann personally. The conductor of the interview, David Whelpley, is a direct descendant of both Katzmann and Pope.

To listen to the interview (mp3) click here.




---
Justice Denied In Massachusetts - Short film adaptation recently posted to YouTube


In 1947 modern dancer Judy Job composed and performed a dance to mark the 20th anniversary of the execution of Sacco and Vanzetti. Danced to the music of Ernest Bloch (here performed by Marian Conti, but in 1947 for Judy Job by the late pianist Naomi Sparrow) combined with a reading of Edna St Vincent Millay's poem, "Justice Denied in Massachusetts." With only two still photos from the 1947 performance surviving, this montage uses those two photos, as well as photos supplied by the Sacco and Vanzetti Commemoration Society.

---
The Sacco and Vanzetti Funeral Footage in Chronological Order
Not one of the many versions of the Sacco and Vanzetti funeral footage found on the internet appears in its correct chronological order. That the sequence in which the shots appear is not quite right is apparent from even a casual viewing of the film. Additionally, while a number of shots are out of sequence, others are repeated in ways that make little sense. Both the order and repetition of the shots that make up the funeral footage can be attributed to their having been taken from same source which spliced together surviving footage from two copies of the original, but badly deteriorated, film.

---
La Marcia del Dolore / The March of Sorrow
The Funeral of Sacco and Vanzetti
Today various versions of film footage that show the funeral of Sacco and Vanzetti can be easily found on the internet. Practically all owe their origin to a single source, the silent film originally titled, "The Good Shoemaker and the Poor Fishpeddler." (It should be noted that this phrase is commonly attributed to Vanzetti and is often used to identify the two men. But it should be emphatically noted that it was never said or used by Vanzetti and that it critically mischaracterizes the two men -Sacco was a very skilled shoe worker: not a shoe maker; Vanzetti sold fish for less than 6 months of his life.) ...

---
Interview with Theodore Grippo, author of the book "With Malice Aforethought, The Execution of Nicola Sacco and Bartolomeo Vanzetti"
07/24/2012 [DOCUMENTS] - "When I was ten years old, I asked my father about Sacco and Vanzetti. I had heard their names, probably on the radio, in connection with the tenth anniversary of their executions. I still remember the look on my father's face as he explained that Nicola Sacco and Bartolomeo Vanzetti had been sentenced to death for robbery and murder, but many believed they were innocent. My father spoke emotionally of the beautiful letters Sacco wrote to his children just before he was executed, and of Vanzetti's kind nature and brilliant mind. I believe that my father, an Italian immigrant shoemaker, identified with Sacco, an Italian immigrant shoe trimmer. My father's expression and tone denoted sadness marked with a fear I could not then understand. I later learned he felt threatened by the ill will many Americans displayed toward Italians as a result of that case."


---
Monument in the North End against intolerance, prejudice and hatred
The Metro Boston Edition of December 6, 2010 on its front page includes the headlines: "North End memorial to murder? - Group trying to erect a plaque to two men convicted in the '20s. - Sacco and Venzetti (sp) case is infamous". Then on the full page of a small article the reporter, Justin Rice, continues the stereotypes via a sub-heading: "- Group of anarchists trying to memorialize convicted killers in the North End".

The facts are that Nicola Sacco and Bartolomeo Vanzetti indeed where convicted for the killing of Parmenter and Berardelli in a robbery in Braintree, but then and now virtually the entire world doubted that they were the real killers in the case. Historical consensus indicates that instead they were executed because they were anarchists and Italian immigrants. Prejudice and judicial manipulation were in the end their executioners.

---
Sacco and Vanzetti Buttons
The Sacco and Vanzetti Commemoration Society printed a limited amount of buttons with the images of Sacco and Vanzetti, with the text "August 23, 1927" on top and "www.saccoandvanzetti.org" at the bottom. They were first released during the march and rally of last August 23, 2009. The size is 2 inches. The solidarity contribution requested is $3 for both buttons. Please include $.93 for shipping for 2 buttons.

Send us a check or money order to "Sacco and Vanzetti Commemoration Society, PO Box 381323, Cambridge, MA 02238-1323" and we will mail them to you. Thank you!


---
Sacco and Vanzetti Bibliography
The primary sources for this bibliography have been the WorldCat database, Anne Folger Decker's extensive bibliography, and the Anarchist Archives Project collection. Other sources have included bibliographies from a number of books and searches on the internet. Source(s) for entries are available upon request.

As a general rule, I have included only the earliest edition of an item in the original language and country in which it was published, as well as the earliest translation in each country in which it was published. If an item was published in the same language in two different countries, e.g., the U.S. and England or Spain and Argentina, I have included both. Where it was not clear where an item first appeared, e.g., an article appearing in two monthly magazines in the same month, I have included both. Reprints have been included only if new material has been added.

To view the full document in pdf format click here.

---
2007: Historical Marker to Sacco and Vanzetti Rededicated in the North End of Boston
12/02/2007 [NEWS] - Nearly 40 people braved the Boston cold on Saturday, December 1st. 2007, to unveil and rededicate a historical marker for Sacco and Vanzetti in the North End. The plaque was reinstalled at 256 Hanover Street, the place where the Sacco and Vanzetti Defense Committee functioned from 1925 to 1927. An original plaque had been installed there in 1976, during the bicentennial of the U.S. independence, as part of the Freedom Trail. Early in the 80s, however, the plaque disappeared. The Sacco and Vanzetti Society formed this year to commemorate the 80th anniversary of the execution of Sacco and Vanzetti decided to correct this situation and now there is a new plaque in place with the original wording and marking as it was in 1976.

To view a Windows Media video (9mb) of the event click here.

Pictured is Jake Carman from the Boston Anti-Authoritarian Movement

---
The Monument to Sacco and Vanzetti that Never Saw the Streets of Boston
Boston, July 15, 2007. In 1997 (exactly August 23) a 10-years younger Thomas Menino received as Mayor of Boston a relief of Sacco and Vanzetti sculpted by the famous author of the Mt. Rushmore National Memorial depicting the first 150 years of independent history of the U.S. with the likeness of Washington, Jefferson, Roosevelt and Lincoln. The artist's name was (John) Gutzon de la Mothe Borglum. The massive project in Mt. Rushmore sharply contrasts with the 7-foot size of the Sacco and Vanzetti relief that reads:

"What I wish more than all in this last hour of agony is that our case and our fate may be understood in their real being and serve as a tremendous lesson to the forces of freedom, that our suffering and death will not have been in vain."

What happened to that monument?

---